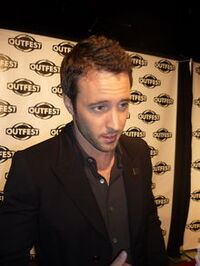 Alex O'Loughlin (born Alexander O'Lachlan; 24 August 1976) is an Australian actor, currently starring in CBS's Hawaii Five-0 as Lieutenant Commander Steve McGarrett.
His earlier roles include Kevin Hiatt in The Shield, Mick St. John in Moonlight, Dr. Andy Yablonski in Three Rivers, and Stan in The Back-up Plan. He also guest-starred in the CBS series, "Criminal Minds" in the Season Four episode, "Big Wheel", playing a serial killer, Vincent Rowlings.
O'Loughlin is also the current ambassador for Donate Life America.
Is one day younger than fellow Hawaii Five-0 actor, Scott Caan who plays Danny Williams.
Ad blocker interference detected!
Wikia is a free-to-use site that makes money from advertising. We have a modified experience for viewers using ad blockers

Wikia is not accessible if you've made further modifications. Remove the custom ad blocker rule(s) and the page will load as expected.