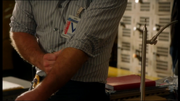 The NCIS Office of Special Projects Visitor Badge is a badge that was seen during the Season 3 episode, Episode:Cyber Threat, being worn by NSA Cyber Defence Specialist Patricia Michaels, and Season 3 episode, Episode:Touch of Death, being worn by Hawaii Five-0 Detectives Danny Williams and Chin Ho Kelly.
Apparently, the badge determines that whoever's wearing it must have an escort with them at all times.
Ad blocker interference detected!
Wikia is a free-to-use site that makes money from advertising. We have a modified experience for viewers using ad blockers

Wikia is not accessible if you've made further modifications. Remove the custom ad blocker rule(s) and the page will load as expected.