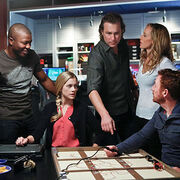 The
NCIS Red Team
is one of several mobile NCIS units. Each mobile team is given a color designation. The teams work, travel, eat, live, and sleep together in mobile command centers.
The Red Team led by Special Agent Paris Summerskill operates out of Georgia, but they're never home. "Laverne and Shirley" are the NCIS: RED Mobile Command Centers.
Known RED Members
Edit
 Administrator
Edit
Due to NCIS: Red not being given a full series, this is the only NCIS team whose fate remains unknown although it's presumed that they are still operating or that they've dismantled with its member being reassigned elsewhere.