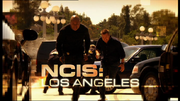 NCIS: Los Angeles is a series centering around agents who work for the Office of Special Projects of the Naval Criminal Investigative Service. It is a spin-off of the show NCIS (series).
Characters
Edit
Protagonists
Edit
Shading indicates that the character is deceased.
Characters
Edit
G. Callen
Edit
The Special Agent in charge of the NCIS: OSP team.
Sam Hanna
Edit
A former Navy SEAL who is G. Callen's partner and who is the Senior Agent of the team, Sam also has a history with Hawaii Five-0 Task Force leader, Steve McGarrett.
Kensi Blye
Edit
The Junior Agent of the team who originally had Special Agent Dominic Vail as her partner. After Vail died in the line of duty, Kensi was eventually and permanently partnered with Marty Deeks.
Nate Getz
Edit
The Operational Psychologist who is currently on assignment in the Middle East.
Henrietta Lange
Edit
The Office of Special Projects's Operations Manager.
Eric Beale
Edit
A Tech Operator with OSP.
Marty Deeks
Edit
A Los Angeles Police Department Detective who is also the LAPD/NCIS liaison and who is also partnered with Kensi Blye.
Nell Jones
Edit
A Tech Analyst with NCIS.
Leon Vance
Edit
The current NCIS Director.
Lara Macy
Edit
The original head of Operations for OSP, Macy was reassigned to a new position after an assassination attempt against G. Callen before her death at the hands of a former Army Ranger who was working for a cartel whose leader sought revenge against Macy's friend, Leroy Jethro Gibbs.
Dominic Vail
Edit
The Probie of the team, Dom's time at NCIS lasted for a year and half up until his eventual capture and subsequent disappearance. Later re-emerged but during a gunfight to rescue Dom from the group holding him captive, Dom sacrificed himself to take gunfire originally intended for Sam and as such, died instantly, his death leaving the entire OSP team devastated.
Antagonists
Edit
Notable Guests Connected with NCIS
Edit
Notable Guests (Not Associated with NCIS)
Edit
| | | |
| --- | --- | --- |
| Character | Actor | Role |
| Danny Williams | Scott Caan | The second-in-command of Hawaii Five-0 who temporarily leads the team in Steve's absence. Later heads to Los Angeles to help Callen, Sam and the OSP stop a possible smallpox outbreak. |
| Chin Ho Kelly | Daniel Dae Kim | Another member of the H50 team who along with Danny heads to Los Angeles to help Callen, Sam and the OSP stop a possible smallpox outbreak. |
| Steve McGarrett | Alex O'Loughlin | A Lt. Commander and a Navy SEAL with the United States Navy and also the leader of the Hawaii Five-0 Task Force who apparently has some history with fellow Navy SEAL/NCIS Special Agent Sam Hanna. |
NCIS (series) (2008) The pilot of NCIS: Los Angeles aired as part of the sixth season of NCIS.
Season One premiered in the United States on 22 September 2009 in the 9:00-10:00 PM EST time slot on Tuesday evenings immediately following NCIS. The most significant changes between the two NCIS episodes that introduced the premise for the series and the premiere were additions of Special Agent Dominic Vail, and Henrietta Lange portrayed (respectively) by Adam Jamal Craig and Linda Hunt. Additionally, it should be noted that Louise Lombard's character was written out of the series due to the fact that the character of Lara Macy, and by extension Louise Lombard, elicited a negative response from viewers.
Eric Christian Olsen who plays Marty Deeks became an official member of the cast while Peter Cambor who plays Nate Getz became a recurring guest, often receiving the credit of "Special Guest Star".
The series also introduced Renee Felice Smith who plays Nell Jones.
The series continued as normal with two of the episodes featuring a crossover with Hawaii Five-0.
External Links
Edit