Episode Count
{{{Episode Count}}}
First Appearance
{{{First Appearance}}}
Last Appearance
{{{Last Appearance}}}
Occupation
{{{Occupation}}}
Family Members
{{{Family Members}}}
Relationships
{{{Relationships}}}
Kono Kalakaua is a member of the Hawaii Five-0 Task Force and an officer of the Honolulu Police Department. She is also Lt. Chin Ho Kelly's cousin.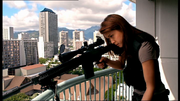 Like Kensi Blye, Kono is also the rookie and the sniper of the team whose shooting skills regularly come in handy, especially if the team need her to do some long-range shooting.
Ad blocker interference detected!
Wikia is a free-to-use site that makes money from advertising. We have a modified experience for viewers using ad blockers

Wikia is not accessible if you've made further modifications. Remove the custom ad blocker rule(s) and the page will load as expected.