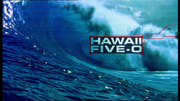 Hawaii Five-0 is a remake series of the original 1968 Hawaii Five-O series. It premiered on September 20, 2010, exactly 42 years to the day as the original and has continued to air ever since.
Characters
Edit
Protagonists
Edit
Shading indicates that the character is deceased.
Character
Actor
Role
Status
Steve McGarrett (2010 - to present)
Alex O'Loughlin
A Lt. Commander with the United States Navy and also a Navy SEAL, Steve is also the leader of the Hawaii Five-0 Task Force.
Series Regular
Danny Williams (2010 - to present)
Scott Caan
A former New Jersey and HPD Detective, Danny is Steve's partner and also the second-in-command of the Hawaii Five-0 Task Force.
Series Regular
Chin Ho Kelly (2010 - to present)
Daniel Dae Kim
The third member of the Hawaii Five-0 Task Force.
Series Regular
Kono Kalakaua (2010- to present)
Grace Park
The fourth and final member of the Hawaii Five-0 Task Force and also Chin's cousin.
Series Regular
Max Bergman (2010 - to present)
Masi Oka
Chief Medical Examiner for the H50 team.
Recurring Character (Season 1); Series Regular (Season 2)
Lori Weston (2010 - 2010)
Lauren German
A profiler with Homeland Security who was temporarily assigned to the Hawaii Five-0 but who resigned from the team for good after an international incident.
Recurring character although German was credited as "Also Starring" during all her appearances.
Catherine Rollins
Michelle Borth
A Lt. in the United States Navy and Steve McGarrett's on/off girlfriend.
Recurring Character (season 1 and 2); Series Regular (Season 3)
Jenna Kaye
Larisa Oleynik
An Anayalst with the CIA who temporarily joined H50, aiding the team in cases. She later left the team after leaving that her fiance, a CIA agent who had been supposedly killed during a raid was still alive. It was later revealed that Jenna was actually working for the crime-boss, Wo Fat and that in exchange for giving Wo Fat Steve, the crime boss would give her fiance. Unfortunately, Jenna discovered that her fiance was actually dead. After presumably outliving her usefulness to him, Wo Fat killed Jenna by shooting her in the chest as a horrified Steve looked on.
Ad blocker interference detected!
Wikia is a free-to-use site that makes money from advertising. We have a modified experience for viewers using ad blockers

Wikia is not accessible if you've made further modifications. Remove the custom ad blocker rule(s) and the page will load as expected.