Like their counterparts, the Major Case Response Team in Washington D.C, the people associated with the NCIS: Office of Special Projects also carry firearms for protection and in case they come under attack while they're in the field.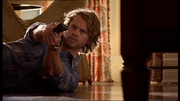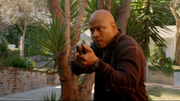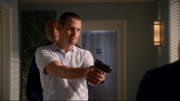 For the first two seasons of the show, G. Callen, Kensi Blye, Sam Hanna, Dominic Vail are seen wielding SIG-Sauer P228s. NCIS Director Leon Vance also uses one during Episode:Killshot while Los Angeles Police Department Detective Marty Deeks uses a Beretta 92FS.
From Season Three, Callen, Hanna, Kensi and NCIS Assistant Director Owen Granger are seen using new model SIG-Sauer P229 with the redesigned slide and new grips.
During an undercover assignment in Episode:Neighborhood Watch, Kensi uses a SIG-Sauer P238.
Ad blocker interference detected!
Wikia is a free-to-use site that makes money from advertising. We have a modified experience for viewers using ad blockers

Wikia is not accessible if you've made further modifications. Remove the custom ad blocker rule(s) and the page will load as expected.