Eric Beale
Talk

0
636pages on
this wiki
Eric Beale is an NCIS technical operator and intelligence analyst stationed in Los Angeles with the NCIS: Office of Special Projects.
He often takes calls from Director Leon Vance from NCIS Headquarters in Washington, D.C.
He is very geeky, and like Marty Deeks, enjoys surfing (twice standing his surfboard too closely to Hetty's car) and internet social networks.
He, like Nate Getz, often fails at attempts at humor. Henrietta Lange also disapproves of his attire (typically shorts and flip-flops) but tolerates it due to his skills. In the episode "Episode:Absolution", he is revealed to be German-American, and takes at least partial offense from the team's remarks regarding Germans in the episode although Hetty apologizes for it.
Other than Hetty, he is the only team member shown to wear corrective eye-wear.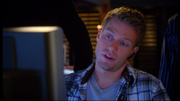 He is the main connection between agents in the field and OSP headquarters, often manipulating traffic cameras and hacking into networks and satellites in order to gain an advantage for the agents so much so that in the season 2 episode "Empty Quiver", he managed to shut down the internet for a couple minutes.
He is familiar with Abigail Sciuto, a main character from the original NCIS series, and has grown quite fond of her with the two of them even going on a "date" together during the Season 1 episode, Episode:Random On Purpose but it ended abruptly when Abby was kidnapped by a serial killer named the Phantom and as such, any possibility of a romantic relationship has presumably ended.
Like G. Callen, Sam Hanna, Kensi Blye and Nate Getz, Eric was first introduced in the back-door pilot "Legend Part 1" and "Legend Part 2" which aired during the sixth season of the original NCIS series.
He is partnered with Nell Jones in Season 2, whom he originally disliked due to her being new, taking over some of his technical duties and at least once whistling the other team members to attention, something he normally does.
He seemingly put that behind them and warmed up to her. It is implied there are growing feelings between the two. In episode 10 of season 4, "Free Ride", Eric and Nell kiss.
According to Callen in LD50, if Eric was asked if the glass was half full or half empty, he would break the glass by putting his feet up on the table.
In the episode Rocket Man, Eric goes undercover for the first time, on the grounds that someone who is not knowledgeable in the ways of rocket science would not be able to get through to the scientists. He is attacked and nearly "frelted"- (a word Deeks coined), but recovers thanks to Callen and Sam saving him in the nick of time although Eric later states that he prefers being in the Ops Centre rather than going into the field which strongly suggests that he is more comfortable with his current role as OSP's Tech Operator and that he also has no plans of ever becoming a Field Agent.
In the NCIS: Los Angeles fandom, fans often mistakenly spell his name as "Beal" instead of "Beale" just like that of Dominic Vail.
Eric is the only member of the OSP team who has not been seen using or even holding a gun.
Like Timothy McGee, Eric is an expert in accessing and using everything and anything technology or computer related.
It is assumed he was born in 1982 as his username on Romancing The One is, Geektoys82
It is said in an episode that he minored in Literature.
It is assumed that he went to UC Boulder for his Bachelor's degree and then moved onto MIT for his Master's degree because of what he says in "Rocket Man". We discover that he actually did graduate from MIT from Sam, but it is unknown whether he actually went to UC Boulder.
External Links
Edit