The Only Easy Day is the second episode of NCIS: Los Angeles.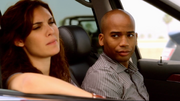 The team investigate a raid that a group of former SEALS carried out a drug dealer's house with the case becoming personal for Sam after he learns that the SEALS in question are people that he trained and that they've disgraced the uniform but the team soon uncover information suggesting that the double-crossing might run much deeper than they originally thought and could even involve a a member of the LAPD who may also be a dirty cop.
Episode Name Origin
Edit
"The Only Easy Day" comes from the SEAL motto "The only easy day was yesterday" as mentioned in this episode.
Series Regulars
Edit
Recurring Guests
Edit
Other Cast
Edit
Production Notes
Edit
This was the second episode of the first season to air. However, this was the third episode of the series filmed. The presentation order of the episodes was reordered so that this episode would air before Killshot.
The episode title is based on an old SEAL motto, "The only easy day was yesterday".
External Links
Edit
Press Release for episode 1.02