Search and Destroy is the fourth episode of NCIS: Los Angeles.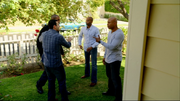 A former Marine arrives in Los Angeles with his arrival triggering a series of killings. As OSP hunts for the missing Marine who is a person of interest in the investigation in the murder of a prominent Iraqi businessman, Citdential, a private security firm muscles in on the case with their own private agenda...
Series Regulars
Edit
Recurring Guests
Edit
Other Cast
Edit
External Links
Edit
CBS Press Release for Episode 1.04
Ad blocker interference detected!
Wikia is a free-to-use site that makes money from advertising. We have a modified experience for viewers using ad blockers

Wikia is not accessible if you've made further modifications. Remove the custom ad blocker rule(s) and the page will load as expected.