Missing is the thirteenth episode of NCIS: Los Angeles.
An annual seminar for the team is interrupted when the team receive an emergency page concerning Dominic Vail and when they get to the crime scene, they discover that Vail's disappeared, leaving his bloodied car behind. In their search for clues, they find that a group of ruthless South American kidnappers may be responsible.
Major Events
Edit
Sam reveals that he hates hospitals.
With no trace of Dom, the team struggle to cope with his disappearance.
Callen later files a Missing Persons report on Dom.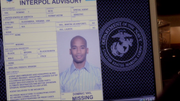 The song playing in the last few seconds in the episode is Rob Giles- See Me.
The storyline in this episode is similar to a Season 1 episode in the original NCIS series, the episode title being "Missing". Both episodes centered around members of the main teams of the respective series being kidnapped by ruthless criminals. NCIS's "Missing" had Anthony "Tony" DiNozzo while NCIS: Los Angeles had Dominic Vail being kidnapped. But unlike DiNozzo who was successfully saved at the end of the NCIS episode, "Missing", no trace of Vail was available to the team until the episode, "Found".
Episode Name Origin
Edit
The name "Missing" refers to the absence of Dom.
Series Regulars
Edit
Recurring Guests
Edit
Other Cast
Edit
Ad blocker interference detected!
Wikia is a free-to-use site that makes money from advertising. We have a modified experience for viewers using ad blockers

Wikia is not accessible if you've made further modifications. Remove the custom ad blocker rule(s) and the page will load as expected.