Chinatown is the sixteenth episode of NCIS: Los Angeles.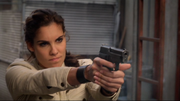 A naval officer hangs himself by jumping off a bridge but what begins as a suicide case soon turns into the murder investigation as many dark secrets from the victim's family are exposed as well as a serious threat to national security.
Major Events
Edit
It's revealed that five weeks have passed since Dom went missing.
Episode Name Origin
Edit
The name "Chinatown" refers to the central setting of this episode.
Series Regulars
Edit
Other Cast
Edit
| | | |
| --- | --- | --- |
| Character | Actor | Role |
| Jun Lee | Tzi Ma | Calvin and Jane Lee's father. |
| Ming Lee | Elizabeth Sung | Calvin and Jane Lee's mother. |
| Jane Lee | Played by Angela Oh | Also Known As Jane Lipsger. Calvin Lee's sister. |
| Lieutenant Commander Vic Stearnard, USN | James Harvey Ward | Nate and Kensi catch him breaking into Lee's apartment and stealing some meth. They both arrest him after a chase across the street. It later turns out that he was bitter at Calvin Lee for taking the promotion that Stearnard felt was rightfully his. |
| Xue-Li | Elaine Kao | A Chinese spy tasked with killing all the members of the rogue cell and Calvin Lee's family too. |
| Bobby Tang | Fernando Chien | A member of an Asian gang in Los Angeles who killed Calvin Lee's boyfriend, Jaxson. Is killed by arranged bride/government spy Xue-Li. |
| Hot Girl | Played by Rachel Sterling | |
| Bride | Played by Lindsay Taylor | |
| Video Girl | Played by Katerina Mikailenko | |
| Chinatown Local | Gabriel Bresler | |
| Jaxson | Brian Parker | Calvin Lee's secret boyfriend. Uncredited role. |