Brimstone is the tenth episode of NCIS: Los Angeles.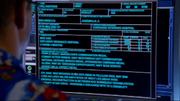 During the morning rush hour and in the rush-up to Christmas, a Marine is murdered when a bomb in his cell-phone explodes and the evidence suggests that a disfigured Marine is responsible for the killing but the team soon realize that someone else might be responsible.
Major Events
Edit
Sam reveals that he hates maggots.
Eric reveals that he had been expelled before.
Series Regulars
Edit
Recurring Guests
Edit
Other Cast
Edit
Ad blocker interference detected!
Wikia is a free-to-use site that makes money from advertising. We have a modified experience for viewers using ad blockers

Wikia is not accessible if you've made further modifications. Remove the custom ad blocker rule(s) and the page will load as expected.