Breach is the eleventh episode of NCIS: Los Angeles.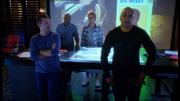 A Navy Petty Officer is murdered when a car crashed into a Hollywood strip club and in the process of investigating, the team discover a plot to extort intelligence secrets from various Navy sources. Meanwhile, a Islamic terrorist is targeting vulnerable young men to fight his Holy War and one of his targets is a friend of Sam's.
Series Regulars
Edit
Recurring Guests
Edit
Other Cast
Edit
Ad blocker interference detected!
Wikia is a free-to-use site that makes money from advertising. We have a modified experience for viewers using ad blockers

Wikia is not accessible if you've made further modifications. Remove the custom ad blocker rule(s) and the page will load as expected.